Protecting your home in an Oklahoma bankruptcy is one of the most important aspects of your case. Our clients often ask "How they can protect their home when filing bankruptcy?" Despite many myths regarding bankruptcy and the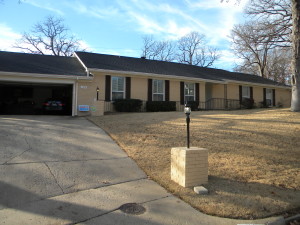 relinquishing of property, you will likely be able to keep your home. Contact our attorneys for a consultation regarding your legal options. Read on to learn more about how you can protect your home when filing for bankruptcy and how our attorneys can help you.
Protecting Your Home in an Oklahoma Bankruptcy:
Our experienced attorney will review your assets and debts and let you know if you are at risk of losing your home upon filing for bankruptcy. When you file for chapter 7 bankruptcy, it enacts an automatic stay. The automatic stay prevents creditors from taking any collection action against you. An automatic stay will stop the foreclosure process. Once you file and if your house payments are current you will be given the option of either keeping the house and continuing to pay on your mortgage or signing a reaffirmation agreement. Both options will allow you to keep you home but you must continue to make payments on the home.
Homestead Exemption as a Way of Protecting Your Home in an Oklahoma Bankruptcy:
Oklahoma's homestead exemption law allows homeowners to exempt the entire value of their real property (example – single family home or mobile home) covered under the exemption. This means you protect your house through a homestead exemption when you file for bankruptcy. The exemption only applies to property used as a principal residence.  The property must be located within a city or town, not exceed 1 acre, and used for residential purposes. If you are behind on your mortgage, the homestead exemption will not help you.
Chapter 13 Bankruptcy Home Protection:
Chapter 13 bankruptcy allows you to protect your home by entering into a repayment plan with your debtors. Similar to chapter 7, once you file for chapter 13 bankruptcy, it enacts an automatic stay. The past due amount that's owed to your home lender is made part of the chapter 13 bankruptcy plan. This means that you receive 3 to 5 years to catch this  amount up and not lose your home.
Refinance Your Home:
If you are current on your mortgage, and have equity in your home that you seek to protect from declaring bankruptcy, you can look to refinance your home.  By refinancing your home, your mortgage interest rate lowers.  Consequently, this allows your mortgage payment to be more affordable. You will likely be required to pay closing costs on your refinanced loan.
Seek a Short Sale:
If paying your mortgage has become a financial burden, contact our attorneys for a consultation about short selling your property. A short sale will allow you to sell your house for less than the amount you owe the mortgage company. The mortgage company consequently must agree to the short sale. This makes a short sale a complex transaction. If you sell the property for an unapproved amount, you hold responsibility for the remainder of the balance owed to your lender.
Obtain a Loan Modification:
You can request a loan modification from your lender in order to obtain a more affordable mortgage payment. There are federal, state, and lender-specific loan medication programs available for borrowers.
Hire Our Oklahoma Bankruptcy Attorneys:
Our bankruptcy attorneys can provide you with legal guidance on protecting your home in an Oklahoma bankruptcy. We invite you to contact us for a consultation.  We can help you obtain financial freedom.
Tags: tulsa bankruptcy lawyers